The Railcar Technical Services Association (RTSA) is the railroad mechanical freight car professional's premier resource for new concepts, training, and opportunities for interaction with your industry peers.
Join us at RSI Expo and Technical Conference October 11-13 in Fort Worth, TX
RTSA is excited to partner with RSI and help provide a unique educational experience to keep the industry up to date on the latest developments. Register here and we'll see you in Fort Worth! MAKE SURE TO LINK YOUR REGISTRATION TO RTSA.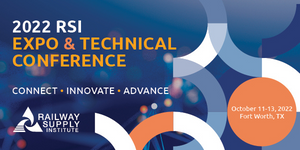 The annual RTSA Railcar Education Conference will be held as a part of the 2022 RSI Rail Expo & Technical Training in downtown Fort Worth on October 11-13, 2022.  

In recent years, the Railcar Technical Services Association (formerly MARTS) has evolved rapidly and is presently the only nonprofit professional association dedicated to the freight car repair professional. RTSA is dedicated to its mission to provide a value added forum for sharing railcar customer maintenance needs through new technology, practical experience and best practices with the purpose to improve profitable industry share.

We have archived via video and still presentations of our previous conference training sessions. You can view these outstanding educational presentations under the Archive tab or click on the above paragraph title.